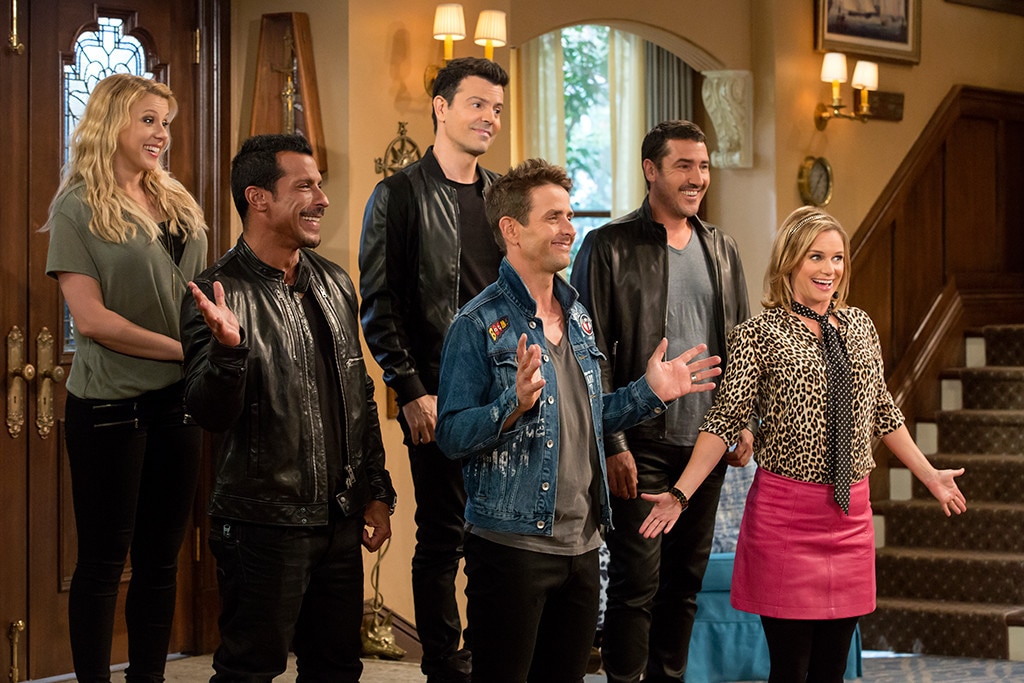 Netflix
For the ladies of Fuller House—particularly Andrea Barber and Candace Cameron Bure—having New Kids On The Block guest star is a dream come true. A 30-year dream come true.

"We've been wanting New Kids on the Block on the show for 30 years," Barber, who plays Kimmy Gibbler on the series, said in the behind-the-scenes video below. "Seeing the New Kids on the Block in the living room on the Fuller House couch blew my mind."

"That was, for Andrea and Candace, something they had always wanted," Jodie Sweetin, Stephanie Tanner on the Netflix comedy, said. "It's a dream come true."
Fuller House is the sequel series to Full House, which ran from 1989-1995, the New Kids on the Block heyday.

"Back in the day, we never did any guest spots," NKOTB member Joey McIntyre said. "So, yeah, it was fun."

The men of NKOTB were well aware of Full/Fuller House's desire to have them on the show. "It's so cool we're finally able to do it," Jonathan Knight said.
Cameron Bure and Barber went to New Kids on the Block concerts together in the 1990s and still go together. In fact, Barber brought in all of her NKOTB merchandise and outfitted the crew and extras in the scene. The ladies were so into the guest spot, they even sent notes to the prop department to get the stage set right and make sure the men had color-coded microphones like at their concerts.

"We got to actually sing their songs on stage with them," Barber said. "I mean, in what universe am I living?"

"It by far is my favorite episode of the season," Cameron Bure said.

Fuller House season two is now streaming on Netflix.